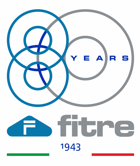 It was the year 1943; in a sad September of a split and adrift Italy that still saw no glimpse of escape from the horrors of war, in a small workroom in a city of Milan outraged by bombing, a business idea sprang from the vision of a group of daring people and turned out to be solid and successful in the following decades.
So Fitre was born: eighty years have passed and in the meantime this idea has become a reality worldwide recognized in the sector.
Now as in those days and over the years, the men and the women of Fitre have maintained the same original passion, handing down to subsequent generations a strong attraction towards quality and innovation, experimenting and learning to improve and to be able to always supply the best possible solution with its products.
We thank all our collaborators, of the past and now, with whom we have shared and will continue to share a proud journey full of satisfactions, and we thank the many business partners as well as the countless customers who encourage us to always give our best every day.
We dedicate this important milestone to us and to all of them.