Special Purpose Telecommunication Systems

Fitre Communication Systems

Building Blocks System Concept

System Architectures Examples

Systems Applications

System Components

Special Purpose Telecommunication Products

Special purpose intercom and telephone sets

Signalling devices

Special purpose loudspeakers

High voltage interfaces

Telephone pillars and booths

Emergency call devices

Telecommunication gateways

Telephony Products

Telephone sets

Telephone headsets

Telephone surge protectors

Telephony complementary products

Electromechanical Components

Fitre Componenti product range

Mountain & Open Air Safety

Equipment for safety and communications
© 1997-2023 FITRE S.p.A.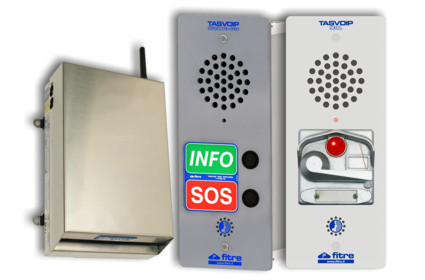 Special Purpose Telecommunication Products > > Emergency call devices


Emergency call devices on board train
Equipment for information and emergency calls on board train. Weatherproof and vandalproof performance. VoIP or GSM-R versions.
Emergency call devices for elevators
Series of tele-alarm devices for elevators, for connection to landline or GSM network. Fully remotely diagnosable. Installations on the roof or in the engine room.
ECP emergency call devices and hot-line phones
Devices for Emergency Call Points and series of digital VoIP or analog telephones without keyboard for hot-line emergency systems.