Special Purpose Telecommunication Systems

Fitre Communication Systems

Building Blocks System Concept

System Architectures Examples

Systems Applications

System Components

Special Purpose Telecommunication Products

Special purpose intercom and telephone sets

Signalling devices

Special purpose loudspeakers

High voltage interfaces

Telephone pillars and booths

Emergency call devices

Telecommunication gateways

Telephony Products

Telephone sets

Telephone headsets

Telephone surge protectors

Telephony complementary products

Electromechanical Components

Fitre Componenti product range

Mountain & Open Air Safety

Equipment for safety and communications
© 1997-2023 FITRE S.p.A.
Telephone pillars and booths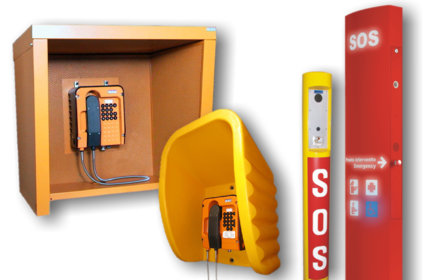 Special Purpose Telecommunication Products > > Telephone pillars and booths


Pillars for audio/video/SOS communications
Outdoor telephone pillars equipped with vandalproof full-duplex handsfree emergency phone. Analog or VoIP versions. They may be equipped with additional accessories, as per customer specifications.
Acoustic booths and accessories
Acoustic booths for telephone (also handsfree), intercom or emergency call stations. Ergonomic designs available in different materials: stainless steel, plastic polymer, GRP glass fiber reinforced plastic, also with transparent plastic cap. Wall or pillar installation.